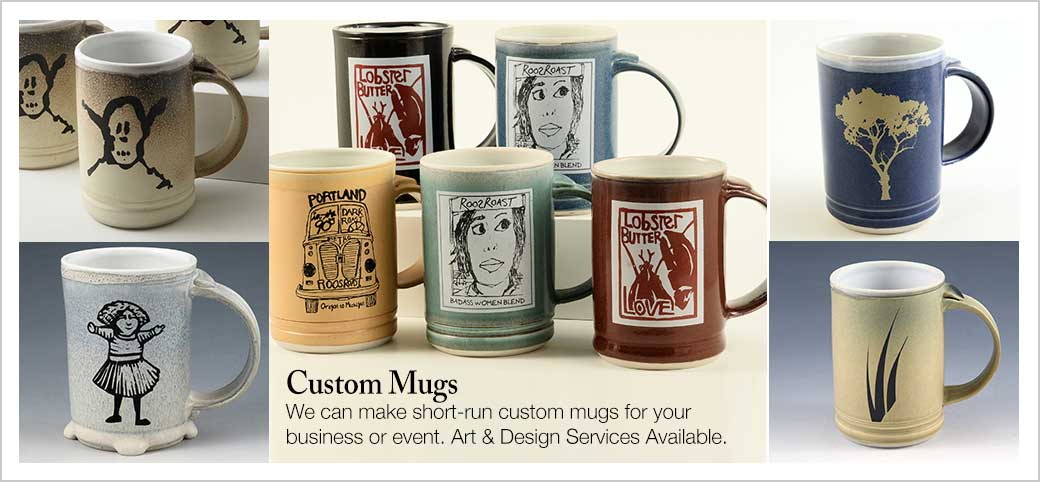 You can find cheaper mug makers. They print with inks that are not long-lasting. They produce mugs by the hundreds from off-shore factories. We, on the other hand, make every mug by hand in The USA. Each mug has it's own personality. Each mug is handled, smoothed and finished in our studio 15 times. These mugs are fired in a gas kiln - a method of baking at high temperatures that provide a depth of color and beauty that cannot be found from a factory setting. That is why our mugs sell so well. Every one is a work of art. if you have questions, contact us at

[email protected]

. we're always glad to hear from you.
Two

Mug Sizes to choose from.

One price!
DEMI MUGS
are smaller mugs. They measure 3″ wide x 4/1/2″ High.
They hold 9 oz of liquid 1-1/4 cups.
FULL SIZE MUGS
are the larger sized mugs we produce. They measure 3-1/8 wide x 4- 5/8 tall " and holds 12 oz or 1-1/2 cups.

SHIPPING and PRICING:
Mugs are $22.50 ea. (Both mugs sizes are priced the same.) Minimum order is 1 dozen pieces.The average shipping costs for 12 mugs is about $16.00.
Set-up, One-time Fee – $130.00.
This covers the labor and material necessary to convert your digital file to a silk screen format.
We pride ourselves on good internet and email communication. We will provide you with excellent customer service and support. Turnaround is 4 weeks.