About Dan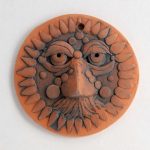 Dan Saultman
A Bit of Biography
Dan Saultman was born in Flint, Michigan.
He received his Bachelors (BID) degree in Industrial Design from Pratt Institute, Brooklyn, NY. He has been an artist and ceramist for 40 years. His studio is located outside of Detroit. 
 His work represents a functional nod to Design; using wheel thrown and cast porcelain.
 He likes to blend polished stainless steel into his ceramic pieces.
 He says, "There is this contrast from soft clay to the hard surfaces of metal that add a media harmony. 
Sometimes I think about where my career has taken me. Why would someone choose clay. I could have pursued other higher, money-making artistic endeavors, but it was clay that shook my world and kept me interested. There was something there that had all of the elements that I needed as an artist; a sculptural, three dimensional opportunity that covered my love of product design and artistic content."
Legacy?
Leaving a Trail Behind…
I don't know where the notion came to me – but the sense of "Legacy" has become important. It's a kind of a, "Dan Saultman walked here" thing. I find myself thinking that every piece of art work or clay piece I make is a foot print. When I look back through my career, I realize that I have left marks along the way. A narrative. Here is  some of it…